Программа МФ
Video Programme of Transmediale Media Festival, Germany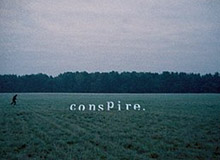 The Transmediale Berlin festival is a communication space for media artists, experimenters and all people interested in contemporary art. Here all forms of artistic activity are welcome, exhibitions and performances, conferences and art projects presentations are organized.
The award competition of transmediale is now in its 21st year. This continuity of selecting and presenting video art has fostered the popularity of the festival, and the great quality of the participating works from all over the world. For the transmediale.08 competition again more than 1000 works were submitted.
The transmediale.08 video selection consists of ten outstanding video works that were presented in the 2008 edition of the Berlin based festival for art and digital culture. For the video selection programme of transmediale.08, we deliberately chose works that differ strongly in the way they were produced. Consequently, these videos give a wide-ranging insight into the dimensions of current artistic video production in form and content.
The programme 2008 includes works by Michelle Deignan, Thomas Kцner, Theo Ligthart, Zhenchen Liu, Julia Meltzer & David Thorne, n:ja, Elodie Pong, Nelly-Eve Rajotte, Semiconductor (Ruth Jarman & Joe Gerhardt) and Xu Tan.
Zhenchen Liu
Under Construction · fr/cn, 2007, 10:00
City planners decide to pull down parts of Shanghai's old town in order to regenerate the city. Every year more than 100.000 families are forced to leave their homes and move to the edge of the city. Under construction is a twoand three-dimensional flight across the now destroyed living areas of Shanghai
which shows how random and brutal decisions can affect people's lives. Zhenchen Liu was born in 1976 in Shanghai. He graduated at Ecole Nationale Superieur de la VillaArson; and at the Fresnoy National Studio of Contemporary Art in France. This work focuses on the subjects of «urban», «modernisation», and «the problem with the development of China». Recently, he participated in the Locarno International Film Festival, Festival de Clermont-Ferrand and Oberhausen International Film Festival. Currently he works as a freelance artist in France and China.
Julia Meltzer & David Thorne with Rami Farah
Not a Matter of If but When · us/sy, 2006, 14:00
Not a Matter of If but When was developed in 2005-06 in Damascus, Syria.Over a period of several months, the artists worked with the actor Rami Farah to record short sequences in which he responded to a prompt or a written text. Through a combination of direct address and fantastical narrative, Rami's improvisations speak to living in a condition of uncertainty, chaos and stasis.
Los Angeles-based artists Julia Meltzer and David Thorne produce videos, photographs, installations, and published texts. Their current works focus on the ways in which visions of the future are imagined, claimed and realised, specifically in relation to faith and global politics. Recent projects have been exhibited in the 2008 Whitney Biennial, Akbank Sanat Gallery, Istanbul, Apex Art, New York, Momenta, New York, and as part of the Hayward Gallery's (London) traveling exhibition program. Their video work has been screened at the International Film Festival Rotterdam, The New York Video Festival, the Margaret Mead Film Festival, the Toronto International Film Festival, among many others.
Theo Ligthart
Die Internationale · de, 2005-06, 7:44
A gentleman in a dark pinstriped suit turns the crank on a tiny music box playing «Die Internationale» - the anthem of the workers movement.
Theo Ligthart was born 1965 in Drachten, The Netherlands. He was trained as a cinematographer in Poland, Germany and in the USA, and has studied Philosophy in Vienna. Ligthart lives and works in Berlin.
Elodie Pong
Je suis une Bombe · ch, 2006, 6:12
In Je suis une Bombe a figure in a panda bear costume performs an «erotic» pole dance. On removing the panda's head, a woman appears and steps up to the camera to deliver her own praises of a complex image of woman, simultaneously strong and vulnerable, potential powder keg.
Elodie Pong was born in Boston in 1966, she lives and works in Zurich, Switzerland. She has particapted in numerous exhibitions and received several international awards and prizes.
Nelly-Eve Rajotte
VIHR · ca, 2006, 4:12
Architectural elements, rain, passers-by on an esplanade-all overlap in VIHR and intersect against a musical excerpt from Brian Eno's «Music for Airports».
With a bachelor's degree in art history, and a second BFA and MFA from Ecole des arts visuels et mйdiatiques (UQAM), Nelly-Eve Rajotte joined the Canadian media arts research and development centre Perte de Signal in 2003. Her work is geared toward single channel digital video and installation. She explores a sensory investigation that aims to render an environment at once visual and aural. Her work has shown in Quebec, in Mexico, in Germany, and in France.
Michelle Deignan
Il Cittadino · it/uk, 2007, 8:46
In Il Cittadino, an actress filmed in Friuli Venezia Giulia in the North East of Italy, performs a series of speeches to the camera. Her delivery, echoing broadcast documentary and news report styles, is framed by desolate locations, an atmospheric soundtrack and sporadic uncanny camera perspectives. Speaking in English with an Italian accent, the narrative she presents combines facts about this remote area of Europe with anecdotes about the director of the film. The story meanders almost inappropriately from the humorously confessional to the directly political including references to ski resorts, Irish themed pubs and the CIA.
Michelle Deignans video works are concerned with the limits of representation and the mediation of our experiences, culture and politics. Her works draws on a wide a range of interests such as satirical comedic forms, Brechtian theatre, nationalist ideologies and autobiography. Born in Dublin in 1970, Deignan has been living in London since 1998. Her video, digital and photographic works have been exhibited in various international exhibitions and festivals. She is currently visiting tutor at The Ruskin School of Drawing and Fine Art, Oxford.
Semiconductor
Magnetic Movie · uk, 2006, 4:50
Magnetic Movie explores the remarkable secret life of invisible interplanetary magnetic fields, revealed as chaotic everchanging geometries in man's visible environment. All action takes place around the NASA Space Sciences Laboratories at UC Berkeley California, set to recordings of space scientists excitedly describing their discoveries.
Since 1999 Semiconductor, comprising Ruth Jarman & Joseph Gerhardt, have exhibited, screened and performed digital animations which reveal our physical world in flux. Their work has been seen extensively, from Tate Britain and ICA London to the San Francisco International Film Festival, Transmediale Berlin and the Venice Biennale. Recent fellowships and residencies have supported site-specific work, including research and experimentation at the NASA Space Sciences Laboratories UC Berkeley, California. Semiconductor are based in Brighton UK.
Thomas Kuner
pneuma monoxyd · de, 2007, 10:00
As surveillance becomes a base of today's society, Kuners work focuses on its implications by monitoring observation and usurping its tools. With the intention of taking a step forward from here, the artist began to invent his own imaginary tool. The scenes in pneuma monoxyd are observed with such an imaginary tool. Its ability to unlock future, past and present unveils the moment as it is being pieced together, blurred and unstable. Premonition, memory and splinters of Here and Now become perceptible as part of the fabric of the observed time. A static gaze of a Balkan market unveils the present moment as a porous frontier and seems like a window looking out to the beyond.
Thomas Kцner, born 1965, attended the academy of music in Dortmund and studied electronic music at the CEM-Studio in Arnhem. Until 1994 he worked for the film industry as editor and sound engineer. He extended his concept of time and sound colour to images, resulting in video installations, photography and film works. He received several international awards such as the «Golden Nica» of the Ars Electronica in Linz and the transmediale award 2005.
Xu Tan
To Build Zheng Daoxing Concert Hall · cn, 2004, 18:20
To Build Zheng Daoxing Concert Hall - Zheng Daoxing, a native of Yangjiang County, formerly owner-manager had to quit his business during the Asian economic crisis. He decides to become a singer. His songs are often inspired by revolutionary songs, in his texts he treats personal experiences. Yet singers like Zheng Daoxing have no place to perform and therefore are forced to move from one place to another.
Xu Tan was born in 1957 in Wuhan, China. He has received his Bachelors and his Masters degree at the Guangzhou Academy of Fine Arts. Currently he lives in Zhuhai, China and New York, USA. He has participated in various solo and group exhibitions.
n:ja
void.seqz 5 · at, 2006, 4:30
The number 5 in the title indicates that this computer animation is part of a series. n:ja, aka Annja Krautgasser, worked with a special script originally developed for audiovisual performances. What all the works in the Void series have in common is that they are in black and white with simple geometric
shapes providing the basis for computer-aided formal studies. void.seqz 5 begins with an empty white space. Gradually short black lines enter it from all sides, leaving behind fine traces. The lines constantly change direction in a seemingly random manner, overlap and fill the picture almost organically.
Annja Krautgasser born in 1971 in Tyrol, she lives and works in Vienna. She studied architecture at the Technical University of Vienna and Innsbruck and visual media creation at the University of Applied Arts, Vienna. Projects at international festivals and exhibitions amongst others at Galerie im Taxispalais, Innsbruck; O.K Centrum fьr Gegenwartskunst, Linz; Kunstlerhaus, Vienna; Lothringerhalle 13, Munich and MediaLab, Madrid. Various artist in residence programs in London, Los Angeles (MAK Schindler) and Paliano. Currently she is artistic-scientific co-worker at the art and digital media department of the Academy of Fine Arts, Vienna.