Программа МФ
Konstantin Semin. Squatting Life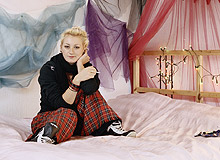 Amsterdam's squatting life, represented by Konstantin Semin's 16 color photos, leaves a complex impression: amazement, interest and even envy, envy-desire for this unbelievable interior Dutch-European freedom and the communal household life of the recent Soviet past.
Squatting Life
Amsterdam 2005-2006

A three-storied floating house in the outskirts of a city, a building of a movie-academy, a former club, trailers, carriages outside town, a deserted apartment, offices, a villa, a factory... Squatting - "unauthorized occupation of vacant buildings" - hasits capital in Amsterdam, the principal city of the country where settling in an empty space is legalized.
The very subculture of a squat-colony is a mixture of destinies, countries, occupations and hardship: illegal Brazilian Krishna, English girl Kelly, Dutchman Vincent, Slovak Katka, Muscovite Yana, Parisian Philippe... A squatter's profession is ambivalent - a musician who washes dishes, a student-punk, a punk-girl-cleaner, a DJ-producer, a skater, a former manager - bike-courier, a free-lance writer... Those who live in squats usually profess some alternative ideology, what is popular here is non-conformism, anarchism, underground, yoga... The accessories of squatters and their interiors create a specific atmosphere in the space of the photographs: guitars, albums, posters, books, record-players, improvised music studios, greenhouses, mattresses, radiators, stoves...

Semin found the theme for this project while he was visiting a party at a former squat-ship. He worked on it for six months, communicating with the people from a pretty closed and complex subculture. He was not just shooting, he talked with squatters, watched them, tried to learn more about their lives. So the sitters in these "portraits in interiors" are represented just like they are, without excessive tension, unnatural posture or a wry face. But the eyes of a squatter reflect his or her anxiety - lack of understanding on the part of society, unpredictable future and continuos threat of having to move someplace else. All these are integral features of the life of a squatter. Semin's project isnot just photography, but sociology and even ethnography. These dimensions, often intersecting and mutually dependent (a squatis usually an art-commune, an art-colony, a center of contemporaryart or a musical club) make this project lively and meaningful.